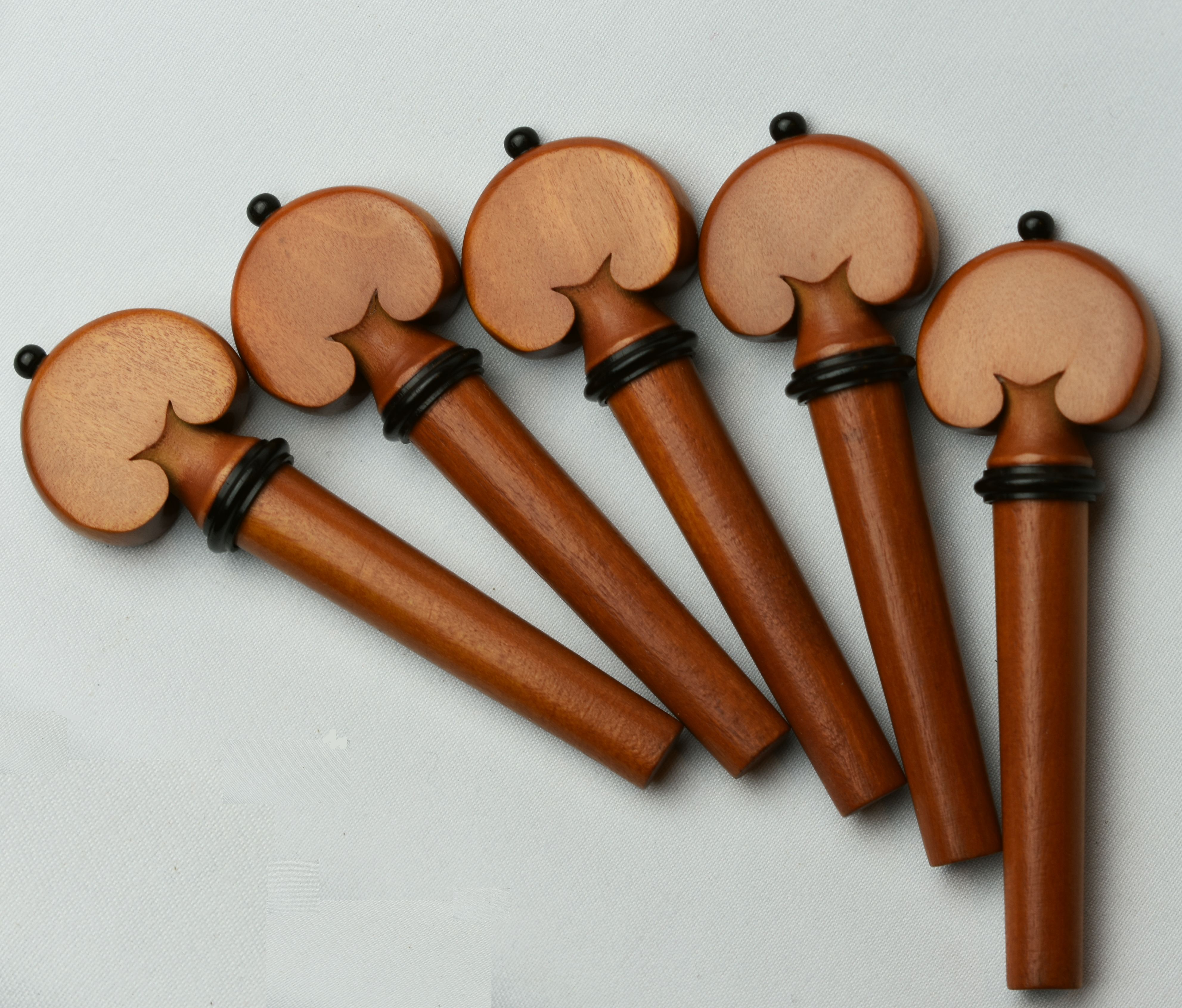 Item 1 of 2
Heart Violin Peg Set (5) in Boxwood with Ebony Pin and Collar
Heart pegs are considered artistic and elegant. The flat head shape makes them easy for most players to manipulate comfortably.
Pegs by Figaro Importers are of the finest quality materials and design. Figaro fine fittings are made only from the best sourced materials and finished by hand by craftsmen in a family owned business. We do recognize the impossibility of the maker to insure that every peg will turn perfectly due to the natural inconsistency of the wood, so we include 5 pegs in the set. It is a bonus and quality assurance you will get nowhere else.
The Boxwood (Buxus sempervirens) is harvested in the foothills of the Himalayas. It is originally off-white and air aged to assure stability. After sectioning into quarter-sawn boards, it is carved and then stained a tasteful orange-brown. The Ebony (Diospyros ebenum) is pure black, harvested in Sri Lanka and the Chotonagpur Plateau in India. Then it is aged to assure stability and quarter sawn before being made into the individual parts.
The dimensions of these pegs are as follows:
Shaft Length: 45 mm
Diameter of Shaft at Collar: 9 mm, 1:25 taper
Thickness of Head: 7.5 mm
Overall Length: 72.5 mm
These pegs are not shaved or drilled, so we recommend installation by a qualified luthier.
You will never find a superior product anywhere at this reasonable price!
Specifications
Shaft length: 45 mm
Diameter of shaft at collar: 9mm
Taper: 1:25
Overall length: 72.5 mm